Chinese… Japanese… Thai… Vietnamese… we have always enjoyed eating Asian food.  Some of our greatest memories from traveling to Vietnam to complete our son's adoption several years ago was being able to experience authentic Vietnamese cuisine.  One of the things the Vietnam government wanted to know when we adopted our son was how we planned to honor his heritage and help him preserve it and learn about it as he grew up.  We knew that one main way we would do this would be by making Vietnamese foods a part of our regular family menu at home.
Vietnamese rolls have become a favorite for us.  One of the neat things about Vietnamese rolls is that you "customize" them with ingredients that suit your personal flavor preferences.  Other common ingredients used include shrimp, crab, tuna, chicken, cucumber, avocado, tomato, scallions, mandarin oranges, and tofu.
(Note: Because we used soy sauce in preparation of the beef, using it for dipping also made the rolls a little too salty.  You can also use Thai chili sauce or Hoisin sauce for dipping.)  The Well-Fed Son does not care for the texture of this type of beef.  We have made these before with shrimp, which he liked a lot better and would probably rate a 4!
Beef and Pineapple Vietnamese Rolls
1 pack rice paper wrappers
1 red bell pepper, julienned
1 20-ounce can pineapple chunks, drained
2 1/2 to 3 pounds beef for stir-fry
1 bunch of fresh cilantro
1 package rice vermicelli (also called rice sticks)
8-ounce package button mushrooms (can use shiitake or portobello)
1 1/2 cups soy sauce
1/2 cup water
4 tablespoons brown sugar
2 teaspoons sesame oil
2 teaspoons rice wine vinegar
olive oil
Cooking Directions:
In small sauce pot, combine soy sauce, rice wine vinegar, sesame oil, water and brown sugar.
Add beef and sliced mushrooms.  Bring to a boil and simmer for approximately 20 to 30 minutes or until beef is tender.  Turn burner heat to low and cover to keep warm.
In large stockpot, bring approximately 4 to 5 quarts of water to a boil.  As soon as water comes to boil, turn off heat.
Add rice vermicelli.  Stir rice vermicelli until softened.  Remove noodles from water and drain.  Place noodles in container and drizzle lightly with olive oil.  Toss noodles until lightly coated, cover and set aside.
Fill large bowl with warm water (should be warm to the touch and not too hot).

Assembly instructions

:  Vietnamese rolls need to be assembled, so place all ingredients in a line on a counter top or table as follows.  Working from left to right, place large bowl of warm water, then rice vermicelli, warm beef, red bell pepper, pineapple, and cilantro.  Remove one rice paper wrapper from package.  Should be stiff like a sheet of paper.  Dip into warm water with fingertips.  Submerge completely and allow wrapper to soften, pliable like a wet cloth.  Carefully lay softened wrapper over large dinner plate.  Approximately one inch from the edge of the rice paper wrapper, place small bunch of rice vermicelli.  Add two to three pieces of marinated beef, two pieces of julienned pepper, three to four pineapple chunks, and small sprig of cilantro.  Grasp edges of rice paper wrapper and fold over ingredients.  Once ingredients are completely covered with wrapper, fold over edges towards center and continue to roll ingredients in wrapper (like a burrito).  Serve with a small bowl of soy sauce, Thai chili sauce, or Hoisin sauce for dipping.
http://recipeseo.com/recipe/8BA8K
NEED ANY OF THE TOOLS USED?
Rating scale
1 star – Feed it to the dog
2 stars – Surprise your neighbor
3 stars – Definite keeper
4 stars – Looking forward to leftovers
5 stars – Clean plate and nap time!  Are there enough ingredients left to make it again soon?
The Chef – 5 Stars
The Lucky Wife – 4 Stars
The Well-Fed Son (4 years old)
- 4 Stars
The Well-Fed Daughter (7 months old)
– Mommy's Baby Girl (4 Stars)
UPDATE: We're updating the rating for The Well-Fed Son to a 4.  We based the previous 3 rating on the fact that he's never been a big fan of this type of meat, but when he ate these after we had published this recipe, he gobbled it up with no hesitation whatsoever.
*Rate it yourself in the comments!
*
If you enjoyed this post, please consider leaving a comment, subscribing to receive e-mail updates of future recipes, or sharing it with your family/friends:
You can find more great recipes with this one at: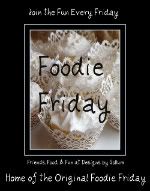 About the Author
Raised in eastern North Carolina, The Chef has always most loved southern cuisine. While working for a top resort just after finishing Culinary School at Johnson and Wales University, when they still had a campus located in Charleston, South Carolina, he began learning about Gullah cuisine and enjoys it as well. He's a family man and country boy at heart, loves hunting and is a big fan of the John Boy and Billy Big Show and the Carolina Panthers.