This recipe is one that I developed last year for The Well-Fed Son's Easter basket.  We were trying to come up with some treats that we could put in his basket that would not contain a lot of ingredients that can be problematic for him.  The Lucky Wife did some research and found a recipe
like this one
, except our source was AllRecipes.com.  We could not find the exact recipe we used last year on that website this year.  
We used a Rice Crispy Treat recipe our Nutritionist had given us when we did her elimination diet a few years ago and adapted the dipping sauce to use carob instead of chocolate.  We actually like this Rice Crispy Treat recipe better (the nutty flavor from the cashew butter) than the original "Rice Krispy Treat" recipe.  They were a hit with The Well-Fed Son, so we knew we'd do them again this year.  Enjoy.
Carob Dipped Puffed Rice Easter Egg Treats
Yield: 1 1/2 dozen egg treats


Ingredients:
2 teaspoons sunflower oil

2 cups brown rice syrup

4 tablespoons cashew butter

4 teaspoons

vanilla extract

12 cups dry puffed rice

1 1/2 cups carob chips

5 teaspoons shortening

cake decorating sprinkles
Cooking Directions:
 Heat large nonstick stockpot over medium-low heat; add oil.
Add rice syrup and cashew butter; stir and heat until bubbles form.
Turn off heat and add vanilla extract.
Add puffed rice and mix well with spatula.  Remove from heat.
With slightly wet hands, form handfuls of mixture into egg shapes (about 2.5 to 3 inches tall).  Set aside to cool.
In small saucepan over medium-low heat, combine shortening and carob chips.  Stir constantly until melted.
Remove from heat.  Dip top of each egg into mixture and sprinkle each with cake decorator sprinkles.
Cool into refrigerator until carob sauce hardens.
http://recipeseo.com/recipe/8BA8K
NEED ANY OF THE TOOLS USED?
Rating scale
1 star – Feed it to the dog
2 stars – Surprise your neighbor
3 stars – Definite keeper
4 stars – Looking forward to leftovers
5 stars – Clean plate and nap time!  Are there enough ingredients left to make it again soon?
The Chef – 4 Stars
The Lucky Wife – 4 Stars
The Well-Fed Son (4 years old)
– 4 Stars
The Well-Fed Daughter (8 months old)
– Mommy's Baby Girl (4 Stars)
*Rate it yourself in the comments!
*
If you enjoyed this post, please consider leaving a comment, subscribing to receive e-mail updates of future recipes, or sharing it with your family/friends:
Find more great recipes with this one at: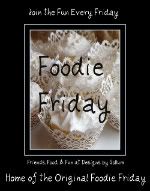 About the Author
Raised in eastern North Carolina, The Chef has always most loved southern cuisine. While working for a top resort just after finishing Culinary School at Johnson and Wales University, when they still had a campus located in Charleston, South Carolina, he began learning about Gullah cuisine and enjoys it as well. He's a family man and country boy at heart, loves hunting and is a big fan of the John Boy and Billy Big Show and the Carolina Panthers.