Welcome to our weekly potluck party… what better way to make a Monday a little more bearable than sharing great food and making new friends!
If you are a new visitor, please check out our Make a Food-"e"-Friend (MAFF) Monday page for more information on what this party is all about.
All guests will want to check out a separate ongoing party, the Star Recipes Collection party, where the most popular recipes from blogs have been linked. It can be accessed through

the link above, our left sidebar, or Star Recipes page. New recipes continue to be added, so you can check back again whenever you need a great recipe idea that you know has been popular.
This week I will share the carrot dip recipe I served earlier in the week as an Easter recipe, although, this obviously makes a wonderful anytime recipe as well: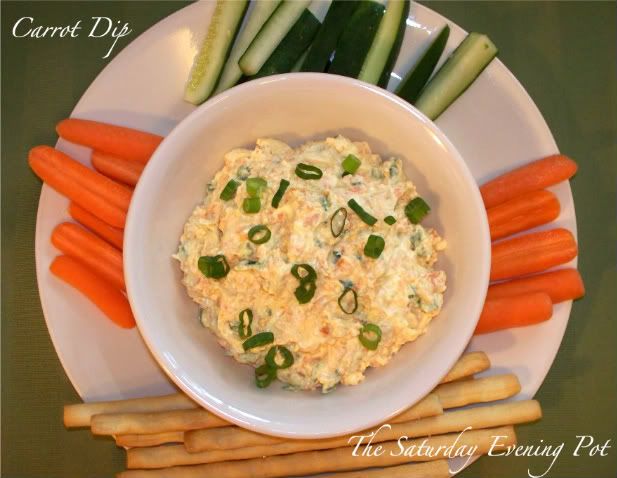 Don't you love recipes like this that are party-friendly? I think it's a nice change from the usual spinach or artichoke dips. I had some tonight with celery, and so far that is my favorite dipper I've tried with it.
Thank you so much for the kind comments about our wedding anniversary last week. I always intend to reply to each comment personally, but there never seems to be enough time in my day for all of the things to be done. The Well-Fed Daughter was under the weather a few days so required more mommy time than usual. I just wanted to take a moment to let those who left comments now how much they were appreciated.


Now, on to our party! Just a few reminders before linking:
1) You can link a recipe or any type of food-related blog post (including giveaways or free food coupon offers). Make sure you use the URL for the actual post and not your blog (or those interested in what you are sharing may not be able to find it if it's not your most recent post and will miss out on what you wanted to share!).
2) Don't forget to link back to this potluck party, using either a text link or the button image. This is important to help spread the word about the party and so all the great recipes that people are sharing can be found and enjoyed. To make it easier, as I know some of these details can be a little confusing:
This party's URL for a text link:
http://www.thesaturdayeveningpot.com/2011/04/make-food-e-friend-monday-10-carrot-dip.html
OR
Button linking back to this week's party (highlight, copy and paste into your post):


3) If this is your first visit for a Monday party and you would like or need more information about the party or how to link-up, please click here. I'm so glad you joined us and hope you will come again next week!
4) Most of all, have fun and be sure to check out any recipes that interest you that others have brought to the party. (How else will you make new Food-"e"-Friends?!) Some weeks I am not able to make it around to all of the recipes, but I so enjoy seeing the different things that are shared at these parties and check back when looking for new recipe ideas. We actually used a recipe from a previous party tonight… but more on that later!
(Link-up open through Wednesday):
*
If you enjoyed this post, please consider leaving a comment, subscribing to receive e-mail updates of future recipes, or sharing it with your family/friends: