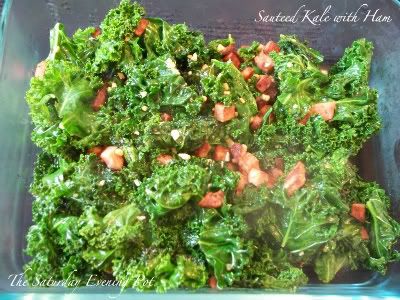 Taking leftover ingredients that you may have from other dishes and creating a new dish or using these ingredients in a different presentation is called cross-utilization.  The science behind it comes from the restaurant industry.  It is a way to ensure that every feasible amount of food products purchased are used and not wasted, and if you are familiar at all with running a restaurant, food cost is everything.
In reality, this is exactly how this Saturday evening's recipe, Sauteed Kale with Ham, came about.  It is a "byproduct" of the following two recipes:
Slow Cooker Italian Sausage, White Bean and Kale Soup
A few weeks ago, the weather was cold, so I made these two soup recipes and had leftover kale and ham.  The ham is quite expensive and kale is relatively new to our family.  In an effort to not let these leftover ingredients go to waste, I decided to play around a little bit with a recipe idea.
I had heard of sauteed spinach, fried cabbage and the like, but did not really know if kale would work in this sort of medium.  So I came up with the above recipe, mainly as an experiment.  It ended up as a win-win situation.  The leftover ingredients were utilized and not wasted, and the end result became an instant favorite of The Lucky Wife.  The flavor was excellent, the texture was different, and the presentation was beautiful.  We think the Well-Fed Son and Daughter may grow to enjoy it as much as we do once their palate is better developed.
Happy Saint Patrick's Day… and enjoy.
Ingredients:
1 bunch fresh kale greens
1/2 cup diced ham (we used turkey ham)
1 teaspoon garlic, minced
2 tablespoons olive oil
Dash kosher salt
Approximately 1/8 cup water
Instructions:
Pull leafy part of kale away from center stalk and tear into bite-sized pieces.
Heat large non-stick skillet over medium-low heat until warm.
Add oil and diced ham. Slowly brown ham until golden and crispy and fat is rendered.
Once ham is browned and crispy, increase temperature to medium-high and add torn kale greens. Toss greens in pan drippings until thoroughly coated and slightly wilted.
Add garlic and pinch of salt and toss thoroughly. Saute for approximately 1 minute and add water slowly. (

Note: this will create a slight bit of steam and will cause kale to wilt and tenderize further.

) Continue to saute for approximately 1 more minute. (

Note: Do not overcook. You want there to be a "little tug" on the leaves when eating.

)
Taste and adjust seasoning if desired. Remove from heat and serve immediately.

NEED ANY OF THE TOOLS USED?
Rating scale
1 star – Feed it to the dog
2 stars – Surprise your neighbor
3 stars – Definite keeper
4 stars – Looking forward to leftovers
5 stars – Clean plate and nap time! Are there enough ingredients left to make it again soon?
The Chef – 4 Stars
The Lucky Wife – 4 Stars
The Well-Fed Son (5 years old)
– 1 Star
The Well-Fed Daughter (19 months old)
– 1 Star
*Rate it yourself in the comments!
*
If you enjoyed this post, please consider leaving a comment (don't be a stranger!), subscribing (it's free!) to receive e-mail updates of future recipes, or sharing it with your family/friends:
For more great ideas: Tip Me Tuesday
About the Author
Raised in eastern North Carolina, The Chef has always most loved southern cuisine. While working for a top resort just after finishing Culinary School at Johnson and Wales University, when they still had a campus located in Charleston, South Carolina, he began learning about Gullah cuisine and enjoys it as well. He's a family man and country boy at heart, loves hunting and is a big fan of the John Boy and Billy Big Show and the Carolina Panthers.