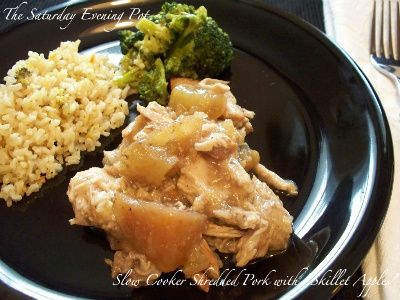 We are bringing this week's recipe to you as the beginning of a series we're starting to showcase crockpot recipes.  We have found Sundays to be a perfect day for the convenience of a crockpot meal, put together Saturday night or Sunday morning and ready just in time for lunch when we get home after church.
Crockpot Sunday will not be an every-week occasion, and we won't follow any kind of a schedule.  In keeping with the Christian practice of making Sunday a day of rest and relaxation, we will experience Crockpot Sundays here in such a fashion, very relaxed and as a special surprise for you whenever we have a new recipe to share.  For lots of crockpot recipes and other crockpot information, please check out our daily paper: The Crockpot Chronicles!
Our first recipe to kick off our Crockpot Sundays is one that I created out of a love of The Well-Fed Family for skillet or country apples.  I thought it would be nice to pair this flavor with a protein to create a main dish.  It was delicious.
Enjoy.
Slow Cooker Shredded Pork with "Skillet Apples"
Ingredients:
1 3-1/2 pound pork loin roast
5 apples (we used Gala)
dash apple cider vinegar
1 onion, chopped
salt
pepper
garlic powder
1 cup chicken broth
1 cup apple juice
1 tablespoon apple cider vinegar
2 tablespoons brown sugar
1 teaspoon cinnamon
1/8 teaspoon all spice
1 teaspoon sage
Instructions:
Fill a large bowl with cold water and add a dash of apple cider vinegar.  Core apples, cut into bite-sized pieces, and place in water. This keeps the apples from turning brown.
Trim excess fat off of pork loin.
Slice loin in half, creating two equal sized pieces.  Place both pieces in large crockpot. Season with salt, pepper and garlic powder.
Add 1 cup chicken broth, 1 cup apple juice, and 1 tablespoon apple cider vinegar to crockpot.
In small bowl, combine brown sugar, cinnamon, all spice and sage.  Mix thoroughly and set aside.
Drain water off of apples and retain apples in large bowl.  Add chopped onion and sprinkle with spice mixture.  Toss thoroughly until apples and onions are completely coated with spices. 
Pour apples and onion mixture in crockpot, completely covering pork loin. Cover and cook on low for 5 hours.
When cooking time is complete, remove pieces of loin from crockpot and place in a 9 x 13 casserole dish. Using two forks, shred pork. Cover with tin foil and set aside.
Using a flat broad spoon, skim any excess fat and oil off of broth mixture in crockpot. Also remove any chunks of fat from broth and discard. Once complete, uncover shredded pork and pour apple and broth mixture over pork and fold gently with a spoon.

NEED ANY OF THE TOOLS USED?

Rating scale
1 star – Feed it to the dog
2 stars – Surprise your neighbor
3 stars – Definite keeper
4 stars – Looking forward to leftovers
5 stars – Clean plate and nap time! Are there enough ingredients left to make it again soon?
The Chef – 5 Stars
The Lucky Wife – 5 Stars
The Well-Fed Son (5 years old)
- 4 Star
The Well-Fed Daughter (20 months old)
– 4 Star
*Rate it yourself in the comments!
*
If you enjoyed this post, please consider leaving a comment (don't be a stranger!), subscribing (it's free!) to receive e-mail updates of future recipes, or sharing it with your family/friends:
More great ideas:Â  Recipe Roundup
About the Author
Raised in eastern North Carolina, The Chef has always most loved southern cuisine. While working for a top resort just after finishing Culinary School at Johnson and Wales University, when they still had a campus located in Charleston, South Carolina, he began learning about Gullah cuisine and enjoys it as well. He's a family man and country boy at heart, loves hunting and is a big fan of the John Boy and Billy Big Show and the Carolina Panthers.