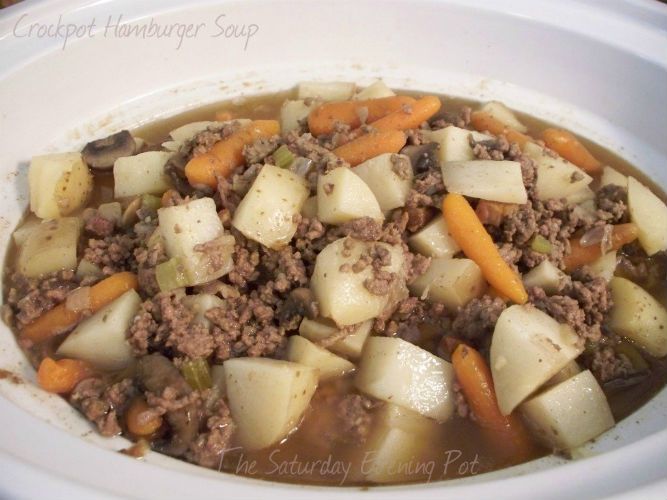 This Crockpot Hamburger Soup has the same flavors as one of our favorite recipes, Old Fashioned Pot Roast (which I also make in the crockpot).  The Well-Fed Children do not care for pot roast due to the texture of the beef (stringy and chewy), but The Lucky Wife and I love the flavor of potatoes and carrots cooked with pot roast.  So… I came up with this recipe as a compromise.  The kids don't have to deal with the stringy, chewy beef, and the parents get the flavor of the pot roast potatoes and carrots.
But I used an ingredient in this dish that I had never cooked with before.  The idea came, in all honesty, from a commercial I heard on the radio, advertising the product as being on sale.  The item is smoked pork jowl.  The announcer described it as cheaper and better than bacon, if you "slice it up and fry it".  And I did just that.
The flavor that this added to the soup was incredible.  I can't describe it.  It does not taste like bacon, but it doesn't taste like ham either.  The only thing I can say is to try it!  This one will be added into our regular menu rotation.
Enjoy.
Ingredients:
2 lbs ground beef
1 medium onion, diced
4 ounces smoked pork jowl, diced with excess fat trimmed
2 stalks celery, diced
1 teaspoon garlic, minced
5 small white potatoes, diced with skin on
48 ounces chicken broth
8 ounces whole baby carrots
8 ounces sliced button mushrooms
2 tablespoons olive oil
salt and pepper to taste
Instructions:
Heat large nonstick skillet over medium heat until warm.
Add oil and smoked pork jowl. Slowly brown pork until crispy and fat has been rendered.
Add onion and celery and saute until onion is soft.
Add sliced mushrooms and garlic; saute approximately 2 to 3 minutes, until mushrooms soften slightly.
Add crumbled ground beef and brown. Once hamburger is brown, drain excess grease and pour contents or mixture into large 5 to 6 quart crockpot.
Add diced potatoes and carrots. Fold together. Pour in chicken broth. Cover and cook on high setting for 3 hours or until potatoes and carrots are tender.

NEED ANY OF THE TOOLS USED?
 
 
Rating scale
1 star – Feed it to the dog
2 stars – Surprise your neighbor
3 stars – Definite keeper
4 stars – Looking forward to leftovers
5 stars – Clean plate and nap time! Are there enough ingredients left to make it again soon?
The Chef – 4 Stars
The Lucky Wife – 4 Stars
The Well-Fed Son (5 years old)
– 4 Stars
The Well-Fed Daughter (21 months old)
– 4 Stars
*Rate it yourself in the comments!
*
If you enjoyed this post, please consider leaving a comment (don't be a stranger!), subscribing (it's free!) to receive e-mail updates of future recipes, or sharing it with your family/friends:
More ideas for Foodies, etc.:Â  Makin' You Crave Monday, Tip Me Tuesday, Works for Me Wednesday, Women Living Well Wednesday, Recipe Roundup, Tatertots and Jello, Titus 2sdays, Foodie Friday, Friday Favorites, Feature Yourself Friday
About the Author
Raised in eastern North Carolina, The Chef has always most loved southern cuisine. While working for a top resort just after finishing Culinary School at Johnson and Wales University, when they still had a campus located in Charleston, South Carolina, he began learning about Gullah cuisine and enjoys it as well. He's a family man and country boy at heart, loves hunting and is a big fan of the John Boy and Billy Big Show and the Carolina Panthers.