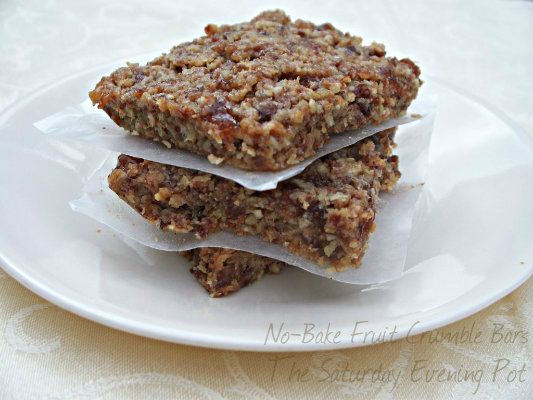 If you are like me, you are constantly on the lookout for new healthy breakfast ideas.  Look no further… I have one for you today!
Learning about nutrition and eating healthy is a lifelong process.  For those not raised in families that were health conscious, it can require a sort of retraining of the mind.  And it is not always as simple as it may seem it is or should be.
For example, early in my own journey towards eating healthier, the word "fat" seemed like it should have been a four-letter word.  But the more I have learned, the more I have realized that it's just not that simple.
When I first came across the recipe that inspired these fruit crumble bars, I began looking at the ingredients a little more closely.  I had heard about benefits of eating coconut oil and found some great information at livestrong.com in What Are the Benefits of Cooking with Coconut Oil.  Note the tip at the end about the importance of using virgin or extra virgin coconut oil!
I know almonds also have health benefits, but due to my salicylate sensitivity, I decided to go with walnuts instead, another healthy option.  And if these two healthy ingredients weren't enough to qualify these bars in your mind as healthy, they also have oatmeal in them, also known to be good for you.
Without further ado…..
No-Bake Fruit Crumble Bars
Adapted from Imma Eat That
2 cups oatmeal
1 cup walnuts
1/4 teaspoon salt
1 cup dried cherries
1/4 cup virgin or extra virgin coconut oil, melted
1/3 cup, heaping, favorite jam or jelly (I used strawberry preserves)
Instructions:
Prepare a 8-inch square pan by lining with parchment paper or spraying with cooking spray.
In a food processor, blend oats, walnuts and salt until crumbly.
Add in cherries and blend until raisins are no longer visible.
Add in coconut oil and blend until a crumbly dough is formed.
Reserve 3/4 cup of dough but pour the rest into the prepared 8-inch square pan. Firmly press the mixture into the bottom of the pan.
Spread your jelly on top of this dough layer.
Sprinkle remaining dough over jelly and gently press it into the jelly.
Cover and chill for an hour.
In the original recipe, it is referred to as a healthy dessert, which it most definitely could be eaten as a dessert.  I really enjoyed it for breakfast, along with some sausage to get some protein into my most important meal of the day.
The Chef does not eat foods like this often, and I don't believe he even tried these.  The Well-Fed children turned their noses up after one taste, so…. I had them all to myself.  I'm pretty sure they will change their minds as their palates mature.  If not, I'll never have to share them. 

*
If you enjoyed this post, please consider leaving a comment (don't be a stranger!), subscribing (it's free!) to receive e-mail updates of future recipes, or sharing it with your family/friends:
More great ideas: Tip Me Tuesday, Works for Me Wednesday, Mommy Club, Women Living Well Wednesday